Talarurus plicatospineus wiki. Radim Holis
W
hat the hell was this thing up to?
Like our friends the ceratopsids, which I riffed on for my last post, much of the attention on ankylosaurs has focused on their extensive body armor. And although the armor of ankylosaurs is awesome, this preoccupation with armor detracts from what made them really interesting in my opinion, their paleoecology.
But before we get to the topic of ankylo paleoecology I want to address the myth of the slow, lumbering, passively defensive ankylosaur. Ankylosaurs are often compared to the extinct glyptodonts or the giant horned tortoise of Australia/Oceania
Meiolania.
Both types of animals were certainly not fleet of foot or agile in any sense of the word. They have columnar, short legs, plantigrade stance and lack the muscle attachments for strong leveraging muscles
I should preface this post by mentioning that there was probably no "one type" of ankylosaur lifestyle. As I mentioned on one of my earliest posts which
I did on Tarchia
- where I argued it may have exploited social insects to some extent - small anatomical differences can account for huge behavioral difference between closely related species. Consider the family ursidae -the bears- all of which share a fundamentally conservative
bauplan,
but differ remarkably in diet from orchid eating spectacled bears to seal eating polar bears. From this I argue that there was enough diversity of design that some type of ankylosaurids were not typical herbivores - at least as we think of mega-herbivores today. Consider the strange and enigmatic
Saichania chulsanensis
pictured below.
Adult Saichania skull. James Kirkland (c)
It has a jaw not too dissimilar to
Tarchia
. With its downward projecting jaw, frontal notch, weak looking dentition, and unusual naso-pharyngeal adaptations- the lifestyle of these particular Asian ankylosaurs raises some questions. In my view, these were not well behaved vegetarians. As Carpenter pointed out in his chapter on Ankylosaurs in The Complete Dinosaur (1rst ed) ankylosaur dentition did not differ substantially from more xeric habitats to more mesic ones. This is not what one would expect for a classic herbivore- the sturdy, tough vegetation of a dry habitat would have put selective pressure for a more robust dentition. And why would these guys have well developed hyoid bones if they had weak dentition? And why the complex nasal passages suggestive of a heightened sense of smell?
The primitive North American ankylosaur
Peloroplites cedrimontanus
gives us a good view of what a ankylosaur dedicated to herbivory looks like. It was a shock to see just how big this thing got but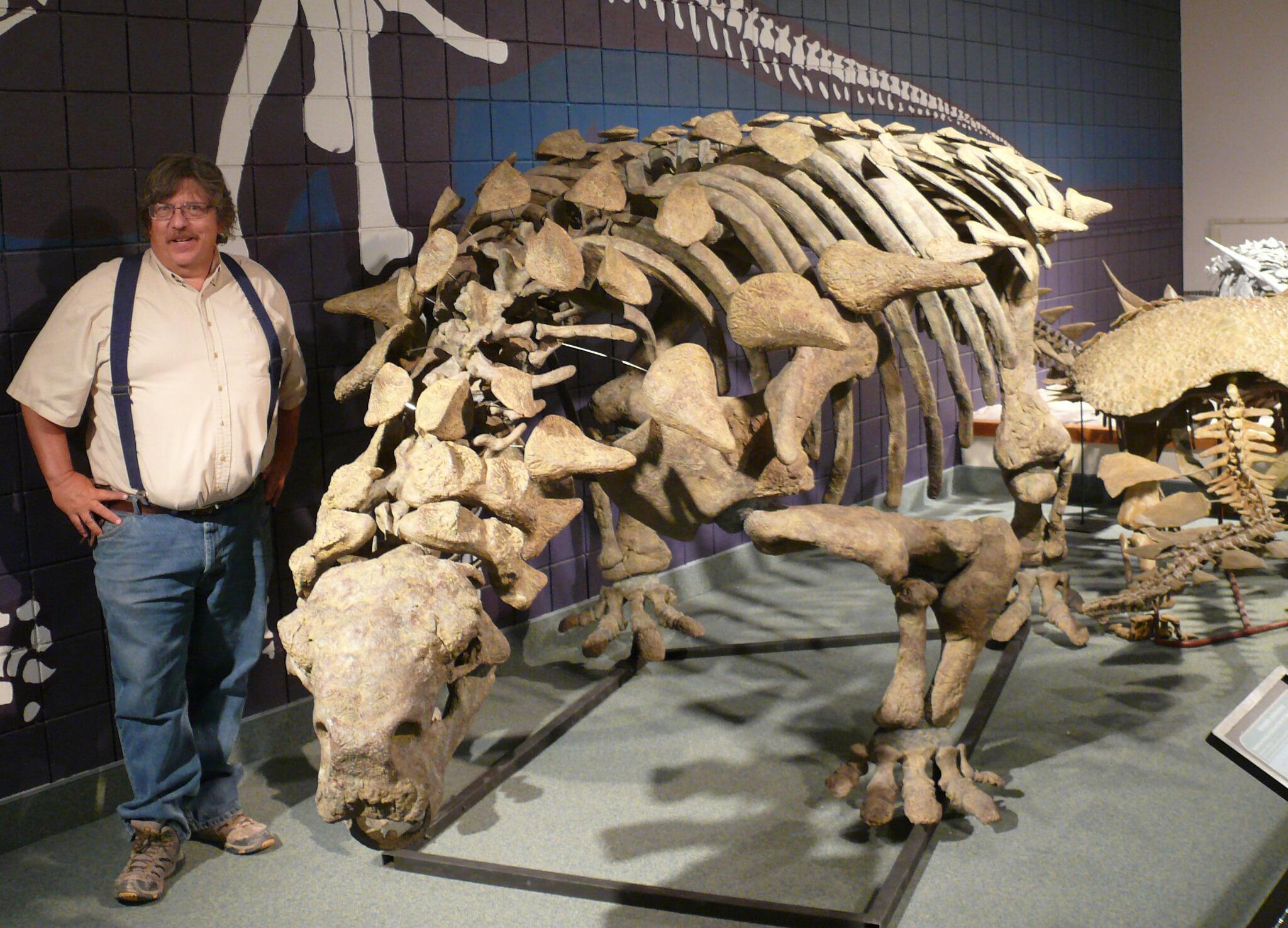 Peloroplites cedrimontanus. James Kirkland (c)
get a load of that massive maw. According to Carpenter (2008) it was uniquely adapted to handling tougher vegetation than other ankylosaurs with its strong jaws and large teeth. Among more derived ankylosaurs
Euoplocephalus
has a wide cropping mouth, but again, seemingly puny teeth. Why would certain ankylos seemingly lag behind others in terms of food processing capability? Contemporaneous hadrosaurids and ceratopsids had efficient food processing capabilities...why, if ankylosaurs could chew, did some appear to be rather ill-equiped- especially the species hailing from dry habitats?
Talarurus plicatospineus. James Kirkland
If all ankylosaurs were equally herbivorous we should see equally strong adaptations to mega-herbivory like we see in
Peloroplites
- but we don't. So how were these slack jawed members of the family making a living?
In my opinion they were exploiting ecological space that simply does not exist in modern mammalian ecosystems. More specifically many types were exploiting a microniche that we do not have a proper analogue for today - super archosaurian herbivore nesting colonies.
Tarchia v Saurolophus. Sergey Krasovskiy (c)