Well let me be honest, I was trying to kill some time at work and decided to do a google image search for "fighting raptors" (I do work at a bird museum so it was a little defensible). Long story short I wanted to see if there are any dramatic images of sickle clawed theropods - or in the parlance of our time "raptors" - fighting in a manner reminiscent of how modern birds of prey (i.e. raptors before it was cool to be raptors) fight. As you can well imagine I got some interesting results and I will rate them in order of accuracy below.
A brief digression. For those of you who were well entrenched in dinosaur lore around the time the original Jurassic Park came out you should recall how that movie took a bastardized version of
Velociraptor,
beefed it up for scares (strangely prescient considering
Utahraptor
was discovered concurrently), and performed a marketing
coup de grace
and simply abbreviated
Velociraptor
to "raptor" for public consumption. Never mind the fact that "raptor" already served as a common name referring to birds of prey.
What has become increasingly clear is that in the intervening years since Jurassic Park the Mesozoic version of "raptor" has increasingly merged with the Cenozoic version of raptor in appearance, behavior, and ecology. The term "land hawk" is an apt description for sickle-clawed theropods as it encapsulates their feathered appearance, likely solitary tactic of prey wing mantling/grappling with foot claws, and likely penchant for small and medium sized prey and carrion. As has been well noted the film franchise has not kept pace with these discoveries... So you would think that "raptor" dinosaurs - as they are now construed - would make great paleoart fodder for dynamic intra or inter-species disputes just like modern fully avian raptors.
Sadly I was a little disappointed...
I want to break down the pics I saw into a couple of different genres so if you go do the google search yourself you will see most fall into these groups. So without further adieu let's get to the pics!!
And in order of accuracy....
1) MOST ACCURATE. Actual, you know, fighting raptors!!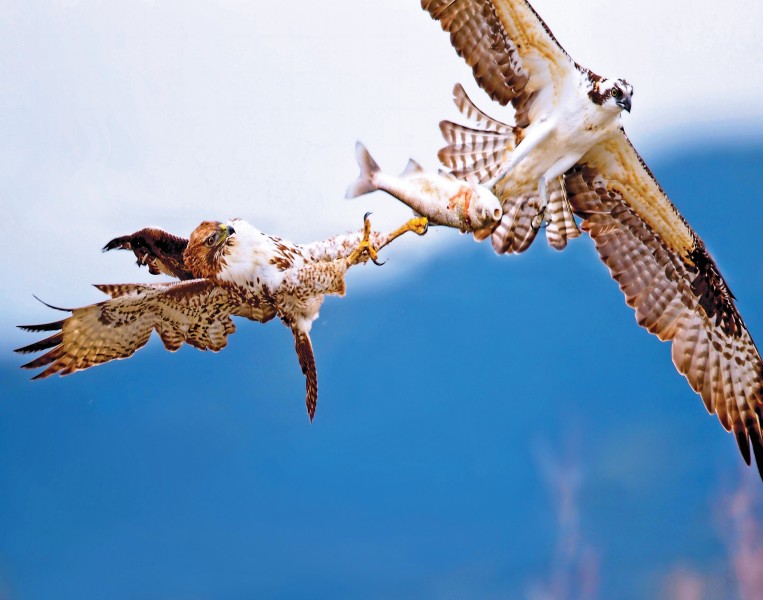 credit Lyle Madison CDFW photo of the year
In this case a red-tailed hawk attempting to pilfer a freshly caught fish - called a "hitch" - from an osprey. You know I love fish eating theropods and kleptoparasitism and I would wager such behaviors went all the way back into the Triassic in theropods.
2) LESS ACCURATE. Disappointing Mesozoic "raptors". Ouch, painful to look at. A few
ok deviantart pics
but nothing that really blows you away.
3) SOMEWHAT LESS ACCURATE. Members of the Toronto basketball team called the Raptors getting into fights. Hey you can do a lot worse. They are aggressive, opportunistic, athletic, highly coordinated, and can jump or even fly depending on who you talk to.
But really there is not much fight in this team given their early departure from the playoffs this year so not really too many photos of the Toronto Raptors fighting (and even here it is a struggle for the ball not a real fight worthy of the name "raptor").
4) OK A BIT OF A STRETCH BUT... the
Lockheed Martin F-22 Raptor
attacks from above, is weaponized, uses stealth, and has aerial maneuverability.
5) AND THE WORST OF ALL...
...
...
...
...
...
......
.......
.........
............
...............
...................
........................
.............................
It's awful. No feathers. Pronated hands. Why are they not attacking each other? Better yet why are they not attacking that dumb synapsid offering up it's arms as chew toys? Why would such a disparate lineage even read human/primate/mammalian body language, eye contact, tone of voice, and facial expression with any kind of relative understanding?
There you have it Jurassic World raptors still less realistic than raptor jets, raptor basketball players, outdated raptor art, and raptor birds of prey.