Ahhh those theropod forelimb. They are a bit of an enigma, no? As bipedal primates descended from a brachiating pedigree of ape we have an intuitive awareness of our ability
and utility
to reach out and grab things. Predatory theropods, despite being bipedal and equipped with arms and fingers like us, were a bit more constrained in their forelimb movements. The neck and head would be the first to contact with prey, the arms and claws being substantially rearward. Furthermore, the range of forearm extension and wrist movement was severely limited. Essentially the forearm and wrist acted as one single unit with the wrist unable to rotate and the radius and ulna locked together unable to rotate as well. The shoulder was likewise constrained to a relatively smal range of motion. Would it not have benefited predatory theropods to have freed up their forearms, wrists, and shoulders for a wider range of motion to assist in prey capture and manipulation? So that they could "reach out and grab stuff" like we do?
Suchomimus credit Duane Nash
Interestingly, there appears to have been at least one instance of theropods increasing both wrist and shoulder mobility and thus evolving the ability to "reach out and grab stuff" (Zanno et al., 2006). From wikipedia:
"
Within Therizinosauridae, broad changes to both the structure of the forelimb, pelvic, and pectoral girdles likely corresponded to changes in the lifestyle of the animals. The forelimb has undergone a drastic increase in robustness, the flexibility of the wrist has increased, and the presumed reach of the animal is believed to have lengthened. Moreover, the pectoral girdle has been modified to further augment upright reach, however the grasping ability of the animals is thought to have decreased. As with the modifications to the head, these adaptations are thought to have assisted with an herbivorous lifestyle, as they may have increased the ability to harvest and collect vegetation.
[3]"
The obvious implication is that when the need arose to "reach out and grab things" the commensurate forelimb adaptations did arise - except that they did not arise in a predatory theropod but a likely herbivorous/omnivorous one!! Maybe the predatory theropod forelimb arsenal was not functionally adapted for "reaching and grabbing things" but served a separate purpose? Perhaps we are not satisfied with theropod forelimbs - that they are a bit enigmatic - because we are assuming the wrong job for them?
credit IsisMasshiro
There is currently a strong notion that whatever the forelimbs were doing - they were of secondary importance to what the head was doing in predatory theropods. And that if the hands were involved in prey capture they stabilized and held prey for the benefit of the head to deliver the dispatch. This notion is actually impractical for several reasons. Theropods neck musculature studies on
Allosaurus
indicate a design optimized to strike ventro-flexively (Snively et al, 2013). In other words they struck down and out away from the body. They were not optimized to strike back towards the body as would be expected if they bit into prey held in place by the arms. Furthermore the sheer implausibility of such a design is patently obvious when one tries to align the kinematics of such an action in the theropods with especially reduced forearms and short powerful necks such as tyrannosaurids and carcharodontosaurids. Can anyone point me to one convincing depiction of short armed theropods holding prey with their arms as the bead bites into it? It is also a bit of a myth that grasping hands are even necessary for the killing and dispatching of reluctant prey items by the mouth. Even a cursorary overview of both terrestrial and aquatic predators reveals that this is not the case - that the skull can be both a grasping and killing instrument - no hands need be involved.
Crylophosaurus credit Duane Nash
For this piece I am going to approach these "limitations" in wrist/arm/shoulder mobility from a different perspective. That these limitations were not at all limitations - they were in fact adaptive benefits. And that these benefits were not actually in place to assist in the capture of prey i.e. "the reaching out and grasping of prey", that was the job of the head. The forearms and wrists of predatory theropods were in fact so severely limited because of two, not mutually, exclusive reasons; 1) many theropods would have dispatched prey with hand claws after the initial grasp by the jaws and 2) all predatory theropods - with notable exception of abelisaurids - would have used their forearms to transport food parcels to localized feeding locations and perhaps mates/offspring.
In other words it proves useful in flipping the equation: " the arms held prey for the head to dispatch" into " the head grabbed prey for the arms to dispatch" in order to understand the forearm use in a great many predatory theropods.
credit Brian Engh.
An important distinction that will color these arguments arose from an observation that Andrea Cau brought up to me in discussions on abelisaurids, theropods, and forearms. That there is a roughly inverse relationship between the power and bite of the head and the bulk and importance of the forearm in predatory endeavors. That is, for the theropods with weaker, slashing, and more modest skulls and teeth, forearm strength and killing capacity are enhanced: spinosaurids, allosaurids, neovenatosaurids, megaraptors, basal tyrannosauroids, among others . Alternatively, where head power is enhanced arm strength and killing capacity is diminished: carcharodontosaurids, ceratosaurids, tyrannosaurids, abelisaurids. Now certainly this is not a hard and fast distinction, there were shades of grey, but I think it is a useful way to parcel out the discussion. No I am not saying that
Suchomimus
never killed with its mouth, nor am I saying that
T. rex
never killed anything in its hand claws. But they did invest in different arsenals and this should matter.
*
Note that only in abelisaurids do we see the arms mutated into vestigial structures. This is an important distinction because even in theropods with reduced forearms they were not vestigial but offered an important functional usage in the transport and relocation of food resources. Dromaeosaurid forearm use will be discussed in a future piece.
In order to disabuse ourselves of the notion of theropod forearms as tools for "reaching out and grabbing" or "holding onto prey for head dispatch" I want to revisit a term often used in the discussion of predatory theropod hand claws: meathooks. The term is a useful one, not only because it alludes to a human contrivance, but expresses quite succinctly the use of these forearms with due credit to notions of form and function having applicability not only in natural systems but culturally mediated systems of butchery. In both situations form follows function.
Megaraptor hand. author raffaeli serge CC2.0
Enough with all these academic pedantry I want to give you, the reader, an immersive feeling on what it was like to be young sauropod skewered alive on the
Megaraptor
meathook claws.
Ladies and gentlemen it is disturbing because the Mesozoic was disturbing - a real horror show. Now keep in mind the meathook claws of theropods, combined with a rather inflexible, strong, and stoutly built arm, work in conjunction to lock a food item in place. Such food items are pinned by either the opposing arm and claws or are wedged in against the torso. It is the meathook morphology of the claw combined with the limited range of motion of the arm and wrist that actually make escape from such a contraption very remote. In other words, the exact flaws that we have felt for so long are built into the system actually in this view are benefits. The prey can't squirm out of the arms due to the inherent inflexibility of the arms!!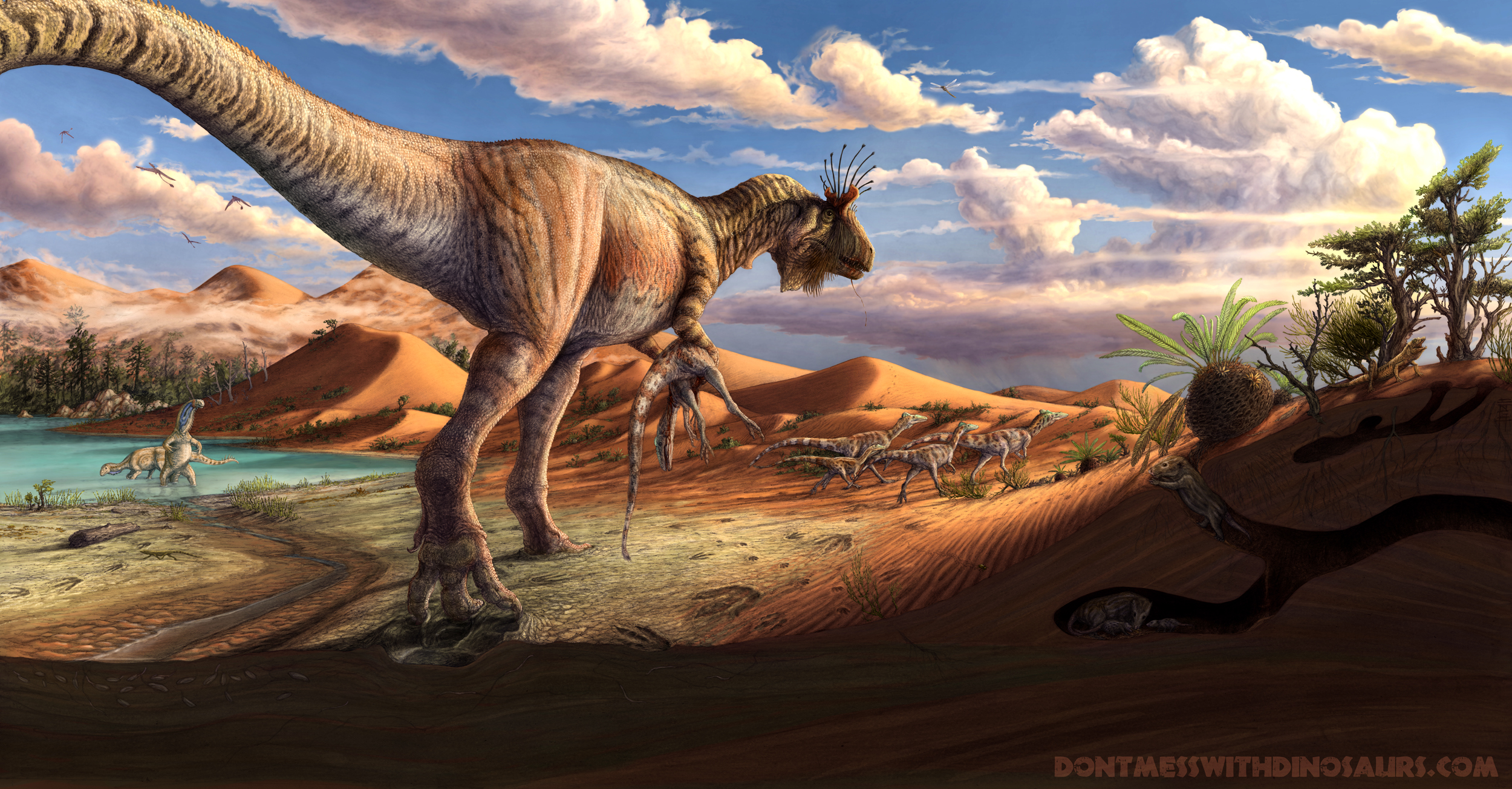 credit Brian Engh used w/permission
Brian Engh (
Don't Mess With Dinosaurs
) did this evocative mural depicting speculative dinosaurs of the early Jurassic Navajo sand-stone of New Mexico. Brian made the rather atypical depiction of the putative top predatory holding a coelophysid in its claws. Also check out Brian Engh and other paleo goodies on July 13th 2017 at
nerd night
in L.A. if possible. I will try and make it too!!
There have been some detailed studies on large predatory forelimbs. One of the most interesting and little heralded studies is by Senter & Robins 2005. What I want to draw attention to in this abstract is; the extreme flexibility of the manus - the fingers can hyperextend; the permanently locked and bent elbow, unable to straighten; the notion of struggling prey further impaling itself on digit 1; and the noted difference between coelurosaur finger flexibility (they were doing different stuff) and other theropods .
What this study gets really right I believe is where they say
"Acrocanthosaurus could manually grasp prey that was beneath its chest, towards which it may have used its mouth to move prey. Struggling prey would have impaled itself further upon the permanently and strongly flexed first ungual."
Perfect, they really nail it here because they are the first - that I know of - to really decouple the forearms from the head as killing instruments in their own right. That is, it is not the claws holding the prey for the head to dispatch
it is the head moving prey towards the claws for dispatch
!! And this notion of the head deliberately moving prey items towards the killing hand claws does mesh well with the idea of sub equal sized prey items (i.e. loads of baby dinos) forming a heavy part of the diet of these animals. So while I am not the first to make this distinction - that the hands were killing implements independent of the head - I see no reason why this method can not be extended out to a whole range of other meathook handed theropods. Again, I'm not the first to advance this idea but I still maintain it has not garnered widespread exposure and knowledge.
The almost preternatural flexibility of some theropod fingers is something that does not get enough press. Once you look at the range of extension one has to wonder, why? The answer I would suggest is that the fingers took a lot of abuse from prey items squirming while engaged in the meathook bear hug. In order for the fingers to remain hooked in such flexibility would be paramount. No matter how hard and strongly the prey item squirmed the fingers would just flex and move to keep the hapless victim ensnared. Furthermore the basic function of an animal lifted off the ground and struggling against gravity would dictate that the claws dug in deeper to the animals; body cavities penetrated; lungs punctured; ribs cracking; viscera perforated; tendons gouged; and spinal integrity compromised. Abso-fucking-lutley brutal.
It is an ingenious solution: the fingers can bend and extend all over the place to absorb the struggles of the prey item, alternatively the extremely inflexible wrist, forearm, and shoulder maintain a rigid "meathook bear hug".
Diabolical
.
Probably the best visual I can find for the crazy hyper extendable meathook claws of some theropods is this visual from the recent study on
Australovenator
forelimb motion.
"I'll Show You the World" Australovenator credit Duane Nash
The megaraptoridae took this forearm dominance to the hilt, they also appear to show a bit more forward mobility in the shoulder joint perhaps even allowing food clenched in the hands to be brought up to the face - an unsettling manner of eating due to the similarity to our own feeding style.
credit Matt A. White, Phil R. Bell, Alex G. Cook, David G. Barnes,
Travis R. Tischler,Brant J. Bassam,David A. Elliott
Also of note is that by allowing the arms to engage in the killing activity the head - and most importantly the eyes - are safeguarded from retaliatory jabs of struggling prey. Many a prey item probably met their end after the initial grasp of the head in the clutches of the meathook bear hug. Trenchant hand claws - especially massive ungual one - dealing the death blow via grievous bodily insults much quickly and safely than injury incurred by the slashing teeth.
Of course I would be remiss to not give a mention to the several studies documenting abundant - and often extreme - forearm pathologies in predatory theropods (Senter & Juengst, 2016) in which a
Dilophosaurus
got absolutely wrecked, like freaking
Monty Python style
.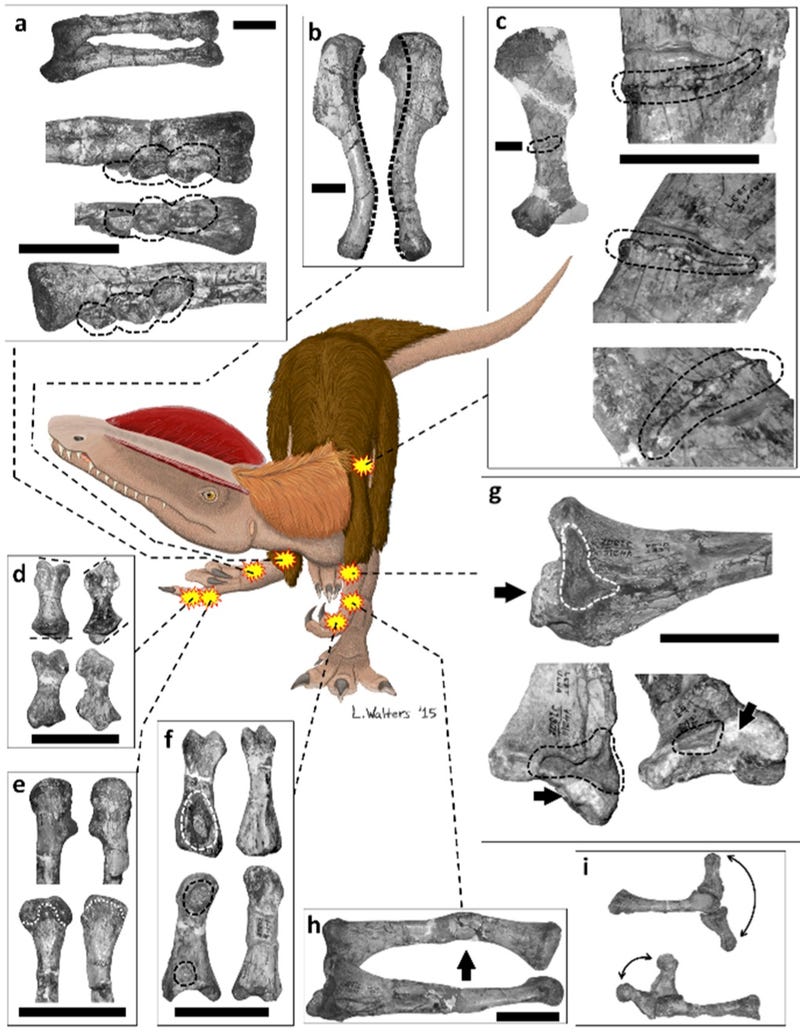 from Senter & Juengst. credit L. Walters (LWPaleoArt)
Senter & Juengst do a nice summary of documented forearm pathologies in theropods in the introduction - therefore saving me a load of work so I will put that here:
T. rex
here. That might be a bit surprising considering
T. rex
should fall more into the "kill with mouth" gestalt. But there might be some reasons. As I will discuss later specific circumstances may have necessitated live prey being put in the arms of
T. rex
and other mouth dominant killers; the public, and researchers, like to obsess on
T. rex
so it might just be more looked over; multiple specimens; pathological features may often be omitted or overlooked in descriptions. Overlooked and omitted pathologies is interesting and Senter & Juengst go into some detail in these regards:
Ceratosaurus
and
Allosaurus
both of which evince evidence of forearm and manus pathologies. Indeed the well documented trauma that
Allosaurus
sustained might be indicative of a willingness to sink its meathooks into prey substantially larger than itself!!
Earlier in this discussion I alluded to some of the reasons why a
T. rex
or other "mouth killing" theropods would have put a live or still struggling prey item in the grasp of its forearms. I also want to suggest some reasons why we should be optimistic about the utilitarian benefits of hauling parcels of food around in the arms (except for abelisaurids of course wink, wink). Let's remain mindful that as reduced as tyrannosaurid arms were, they were not vestigial. They were actually pretty damn powerful,
conservative estimates give T. rex about 430 lbs on the bicep curl
- a feat no human, not even pro-body builders can ever hope to achieve.
Removal of food from a highly competitive/dangerous arena to a more secure locale
. Modern predators do it all the time. Hyenas haul off bits or whole carcasses. Raptors will take their prey off the ground to a safer location to eat. Leopards haul their kills up into trees. Carcasses can attract a lot of undue attention and if you have a way to move your larder to a more secure locale all the better for you.
*
Note that, unlike quadrupedal predators that have to carry food in their mouth, theropods carrying food in their hands can still lash out and defend against would be usurpers with their mouth.
Transport of food to a mate and/or offspring
. It is weird to think of such prosocial behavior in these animals but not without merit. Especially in light of the recent incubation lengths given for some dinosaurs - if such lengths were emblematic of theropods - then I think the discussion swings more and more into this realm.
Southern Ground Hornbill feeding mate. credit Steve Upton
Maximize exploitation of an abundant ephemeral food source
. This is one of the funnest ones for speculative and humorous depictions. A bivouac of baby dinosaurs, a trapped pool of lungfish, a beach full of nesting/hatching sea turtles. Every once in a while predators get a gargantuan smorgasbord of easily acquired and abundant food stuffs and then it is gone. Theropods I would put forth as champions at taking advantage of these windfalls. First swallow as many as you can, then have each arm carry one, and finally cram as many into your maw as possible.
Greedy Daspleto credit Duane Nash
Atlantic Puffin w/sand eels credit Paul Mcllory CC2.0
So to review some of the main points:
- Predatory theropod forearm use has been stymied by our own intuitive understanding of having flexible, grasping forearms. We expect that theropods should have the same use of forearms in "reaching out and grabbing stuff" as we do, so that when we see they are limited in this regard it is thought of as an imperfect, problematic system.
- A study on the forearms of Acrocanthosaurus is one of the first mentions of theropod forearms being decoupled from the head as a killing mechanism in their own right. Forearm killing dominance has also been suggested for megaraptorids but can be extended out towards other theropods to varying degrees.
- There is a general pattern showcasing a trend from more mouth dominant predators to more arm dominant predators. Towards the extreme of forearm dominant predators would be spinosaurids and megaraptorids, towards the mouth dominant extreme would be tyrannosaurids and carcharodontosaurids.
- A meathook type claw morphology combined with a rigid arm anatomy would allow predatory theropods to not only kill but to carry prey/remains manually, useful for several very practical and not mutually exclusive reasons i.e. relocation of carcass, feeding of mates/offspring, hoarding of ephemeral rich food source.
- Forearm pathology in theropods is consistent with a heavy dependence on forearms in acts of predation.
References
Rothschild, B., Tanke, D. H., and Ford, T. L., 2001, Theropod stress fractures and tendon avulsions as a clue to activity: In: Mesozoic Vertebrate Life, edited by Tanke, D. H., and Carpenter, K., Indiana University Press, p. 331-336.
Senter, Phil; Robins, James H. (2005). "Range of motion in the forelimb of the theropod dinosaur
Acrocanthosaurus atokensis
, and implications for predatory behaviour".
Journal of Zoology
.
266
(3): 307–318.
doi
:
10.1017/S0952836905006989
Snively, E., Cotton, J. R., Ridgely, R. & Witmer, L. M. Multibody dynamics model of head and neck function in Allosaurus (Dinosauria, Theropoda), Palaeontol. Elect. 16(2), 11A 29p (2013).



White MA, Bell PR, Cook AG, Barnes DG, Tischler TR, Bassam BJ, et al. (2015) Forearm Range of Motion in
Australovenator wintonensis
(Theropoda, Megaraptoridae). PLoS ONE 10(9): e0137709. https://doi.org/10.1371/journal.pone.0137709
Zanno, Lindsay E. (2006-01-01). "The Pectoral Girdle and Forelimb of the Primitive Therizinosauroid Falcarius utahensis (Theropoda, Maniraptora): Analyzing Evolutionary Trends within Therizinosauroidea".
Journal of Vertebrate Paleontology
.
26
(3): 636–650.
JSTOR
4524610
.
doi
:
10.1671/0272-4634(2006)26[636:tpgafo]2.0.co;2
.
"A Long habit of not thinking a thing wrong, gives it a superficial appearance of being right, and raises at first a formidable outcry in defense of custom". Thomas Paine